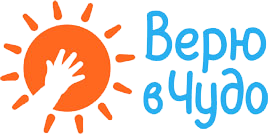 Сharity centre «I believe in a miracle»
The charity centre «Verju v chudo» («I believe in a miracle») is the biggest and most experienced voluntary service organization in Kaliningrad region. Since 2007, 24 hours a day 7 days a week our volunteers and specialists have helped children and young people under 23 with oncological, genetic and other serious diseases, as well as children who are taken to hospitals without their mums and orphans of Kaliningrad and regional social institutions.

Our team builds and equips play areas in children's hospitals where we can daily visit children under care. Besides we organise creative and sports zones in orphanages. The centre accompanies children with serious diseases from the moment of hospitalization and diagnosis to the moment of complete and stable remission. Often, the children, who we had helped before, join our team and occupy responsible volunteer positions. We also provide the children and their family members with the opportunity to stay in our social rehabilitation camps and offer intensive psychological and pedagogical programs. «Verju v chudo» is a support for children, parents and young people who are eager to change the world and reveal their potential.
Volunteers
420 volunteers who help us today are not only students at the start of their life's journey, but also highly professional psychologists, teachers, lawyers, journalists, artists, musicians and therapists. There are 22 permanent employees (6 Supermums who take care of orphans in hospitals, 3 doctors and 2 nurses, 4 psychologists, administrative staff) and tens of thousands of caring people. They all have united to help those in need.

Children
Every year «Verju v chudo» supports more than 7,250 children with non-children's problems in Kaliningrad region. Since the foundation of our centre we have helped 55,000 people! Hundreds of consultations a week, minutes of joy and sorrow together when due to circumstances people become really close to each other — that's what work at «Verju v chudo» is like.
Hospice
Today, our center has far-reaching dreams and plans to make lives in the most difficult circumstances full and enjoyable, even if the period is limited to childhood. We often say: «We can not add days to life, but we can add life in the days.» That is why we have decided to create a hospice in our region. «The name of our future hospice is going to be «Fruppolo House» , says Sofia Lagutinskaya, the director-volunteer and the founder of «Verju v chudo», — «We work hard every day to make our dream come true and we are sure that by 2020 the hospice will have been constructed».

Dreams
Our dreams are becoming reality today! With the help of the Administration of Kaliningrad «Verju v chudo» has got land in the lease. The works are already under way. The project of the future hospice was very much welcomed by the citizens — ordinary people, government officials, business professionals.
Fore more information on our hospice please visit: dom.deti39.com.
Charitable programmes:
«Create, play and develop in children's medical institutions»

«Innovation of the infrastructure at Children's health-care institutions'»

«Targeted and palliative support for families which have children with serious diseases»

«Hospital orphans»

«Social rehabilitation for children with serious diseases»

«Social support for children in orphanages»

«Promotion of volunteering in Kaliningrad region»

«Charitable warehouse»

Our bank details:
Legal name: The children's charity center I believe in a miracle
Adress: Russia, Kaliningrad, Sibirskaya street 27
Bank name: B AND N BANK (Public Joint-Stock Company) MOSCOW
SWIFT: MOBWRUMM
Account number: 40703978863160200134
Correspondent bank: Commerzbank AG, Frankfurt am Main, Germany
Correspondent SWIFT: COBADEFF
Correspondent account: 400887073501 EUR
Purpose of payment: Сharity donation